Wanna wear minimalist shoes that don't look like cardboard and string? Here's an extensive list of fashion-forward options for the minimalist shoe lover.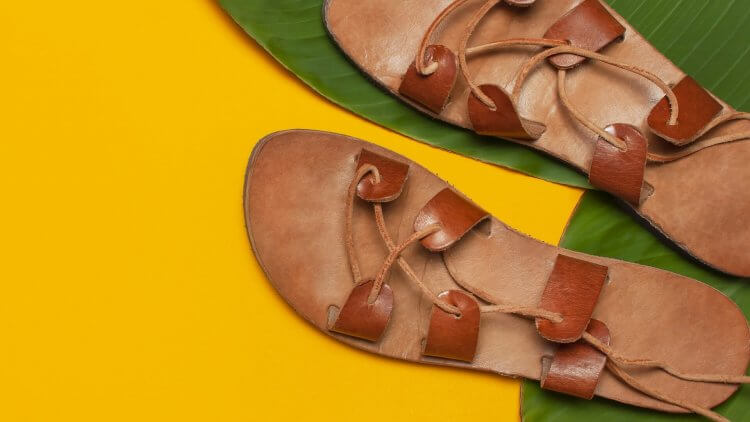 Throughout the span of human history, wearing shoes is a relatively new trend. And, while shoes have brought us a lot of benefits (shock absorption, injury prevention, tap dancing), they've had some drawbacks too.
Conventional shoes have often made our feet weak — and sometimes deformed!
Enter minimalist shoes. Minimalist shoes allow our feet to walk as if they were barefoot, or closer to our "natural" state.
Read on to discover why you'd want to wear minimalist shoes, plus which minimalist shoes are good options to choose from.
Minimalist shoes: How did we get here?
Two forces in the world increased the interest in minimalist shoes.
In running circles, people like ultramarathon runner Golden Harper cut off the heels of their trainers to create "zero drop shoes," where the heel is at the same height as the ball of the foot. This allows your foot to behave just like it would when it's barefoot.

In studies, runners who wore zero drop shoes increased their foot muscle size and had stronger feet. (source)

Meanwhile, in the paleo and primal worlds, thought leaders urged people to return to natural movement patterns and ancestral lifestyle habits. Advocates recommended spending time barefoot to help restore posture and strength.

Specifically, biomechanist Katy Bowman (Instagram name: nutritiousmovement) popularized the importance of wearing minimalist shoes.
The Problem with Modern Footwear
The human foot contains 28 bones, 30 joints, and more than 100 muscles, tendons and ligaments. All of this anatomy works together to allow us to stand, walk, run, and move in our environment.
According to natural movement experts, the modern shoe is "toxic," and doesn't support your entire foot. This can lead to issues like plantar fasciitis, achilles tendonitis, bunions, hammer toes, bone spurs, etc. Problems with many conventional shoes include:
Too narrow of a toe box. This can cause hammer toes, bunions, and overlapping toes. It also restricts proper movement.
An elevated heel. This unnatural slope can weaken the foot and lead to problems like plantar fasciitis, achilles tendonitis and excess pronation.
Lack of ankle support. Shoes like flip flops or slides cause your toes to "grip" the shoe to keep it on, creating all sorts of structural issues for your feet (and the rest of your body).
Too stiff of shoe. Many modern shoes are similar to casts in that they don't allow the muscles in your foot to move, adapt, and be part of your movement. This leads to weak feet, balance issues, and lack of endurance.
Modern Feet vs traditional feet
As you can see, our feet can literally form to the type of shoes we wear, so we want to be sure we are wearing proper footwear.
Examine your infant's foot and you'll see that their toes are more separated and they use their feet often to "grip" and engage with the ground as they walk. This type of movement is best for our foot health, and we want to find shoes that help us do this.
Now for the fun part…
Let's shop for shoes! I start with the most "normal" looking shoes and then move toward the most minimalists for the purist.
After doing lots of digging online, I found a decent number of "traditional" shoes that meet most, if not all, of the criteria for minimalist shoes.
Can Minimalist Shoes Actually Look Good?
Let's be honest. Some of the minimalist shoes on the market look like they're made from (organic and upcycled) cardboard and string.
But Mama ain't playing that.
In the following shoe selections, I picked a variety of styles that fit within the minimalist shoes spectrum. Whether you're a fashionista or hard-core purist, you'll find something you like on this list!
Minimalist Sandals
Roxy Women's Bailey Multi Strap Sandal FlatI couldn't believe my luck when I found these fun, neutral sandals that didn't have a heel, had ankle support and were flexible!— Check it Out —Roxy Women's Bailey Multi Strap Sandal FlatRoxy Women's Rachelle SandalHere's another option that comes in three different colors. I found this style to be the most comfortable.— Check it Out —Roxy Women's Rachelle SandallDREAM PAIRS Women's Slingback Flat SandalsFor those who like a good amount of cushioning, these sandals are a good option and come in lots of colors!— Check it Out —DREAM PAIRS Women's Slingback Flat SandalsSanuk Women's Yoga Sling 2 Metallic Flip FlopFor the flip flop lover, this shoe fits all the criteria of minimalist footwear!— Check it Out —Sanuk Women's Yoga Sling 2 Metallic Flip FlopAdult Solstice SandalFor those who are well-versed in minimalist shoe living, these sandals are perfect. I love the copper color since it can go with anything!— Check it Out —Adult Solstice Sandal – Minimalist shoes that look good post by Mama NaturalKURU Sandal WomensThis black/olive sandal, made by a true minimalist shoe brand, will go with most anything and look great.— Check it Out —KURU Sandal WomensCircadian Lifestyle SandalsFor someone with strong feet and who likes to walk around barefoot, these sandals are ultra minimalist.— Check it Out —Circadian Lifestyle Sandals – Minimalist shoes that look good post by Mama Natural
Minimalist Flats
Me Too Women's Lilyana Ballet FlatThe brand Me Too has several flats that are flexible, have ankle support, have a wide toe box and are zero drop (while they do have a slight "heel", there is elevation in the front of shoe too so it's even and "zero drop"). If you have bigger toes, you might consider purchasing the "wide" width for more wiggle room and a wider toe box.— Check it Out —Me Too Women's Lilyana Ballet FlatMe Too Womens KailaThis knit fabric makes this flat even more flexible and comfortable. The sole is great, too.— Check it Out —Me Too Womens KailaTieks Ballet Flat Cotton CandyExpensive ballet flats for the fashionista. Could cramp a wide foot.— Check it Out —Tieks Ballet Flat Cotton Candy – Minimalist shoes that look good post by Mama NaturalMinnetonka Women's Thunderbird Softsole MoccasinThese soft sole moccasins are a classic and meet all the criteria. Keep in mind, these aren't a great option if you have wider feet since the toe box isn't as generous.— Check it Out —Minnetonka Women's Thunderbird Softsole MoccasinMinnetonka Women's Kilty Suede MoccasinThis kitty suede version has a traditional rubber sole but only the tiniest incline so I would consider this a good minimalist shoe if you have a narrow to normal foot width.— Check it Out —Minnetonka Women's Kilty Suede Moccasin – Minimalist shoes that look good post by Mama NaturalArtisure Women's Classic Genuine Leather Penny LoafersFor the preppier mama, these driving loafers are cute. Again, you need to have a more narrow foot for your toes to work.— Check it Out —Artisure Women's Classic Genuine Leather Penny Loafers – Minimalist shoes that look good post by Mama NaturalTOMS Women's ClassicsFor every pair of shoes purchased, TOMS donates a pair to those in need. While I find this style too cramped for my toes, I think a narrower foot would work.— Check it Out —TOMS Women's Classics – Minimalist shoes that look good post by Mama NaturalAdult Ballerine FlatAn adult ballerina flat that is truly devoted to the minimalist shoe cause, these soft shoes come in a variety of colors.— Check it Out —Adult Ballerine FlatAbaba Leather WomensFor the hardcore minimalist, this flat, that actually looks more like a "clog", would make a good choice.— Check it Out —Ababa Leather Womens
Minimalist Sneakers
Roxy Bayshore Shoes for WomenThese adorable sneakers come in a variety of colors and patterns. I like this model in particular because the toe box is roomy.— Check it Out —Roxy Bayshore Shoes for WomenMerrell Women's Vapor Glove 3 Trail RunnerI just purchased these fun walking/running shoes for my daily cardio. Zero drop, wide toe box, and flexible, these are excellent minimalist shoes that look great!— Check it Out —Merrell Women's Vapor Glove 3 Trail RunnerWomen's Primal 2For a more formal look, Lems make excellent sneakers that allow the foot to breathe and thrive.— Check it Out —Women's Primal 2Primus Lite WomensA basic and true minimalist sneaker available in classic black and white.— Check it Out —Primus Lite WomensV-Trail 2.0 Women'sA new take on the "sneaker", these five finger shoes articulates each of your toes for the ultimate healing shoe!— Check it Out —V-Trail 2.0 Women's
Minimalist Shoes: Tread Slowly
If you are like most of us and have worn traditional shoes for most of your life, you need to transition slowly to minimalist shoes to prevent injury.
Hear me, mama!
There are numerous reports of runners ditching their old running shoes in favor of minimalist shoes and ended up with some serious injuries. (source)
Modern feet are weak. We need to slowly build up their strength, just as we would any other part of our body. Here are some tips to transition to minimalist shoes.
Start with a more structured minimalist shoe (more on that below) and wear for 15 minutes a day.
Each week, increase your time in the minimalist shoe by 15 minutes until you get to wearing comfortably for 4-5 hours a day.
Wear these toe separators at night starting with 5 minutes at time and slowly increasing to 1 hour each night. This will help you make the transition to minimalist shoes.
Go barefoot as much as possible as you continue on your foot health journey to strengthen your feet naturally.
What To Look For In Minimalist Shoes
Wide toe box so your toes have room to move and react to your walking surface
Zero drop shoes that don't elevate your heel and create an unnatural movement pattern
While flip flops are certainly "minimal", you need to find shoes with ankle support so that your toes don't have to carry your entire foot!
Flexible shoes that can easily bend. This allows your foot to engage versus being in a "cast" like traditional shoes. Unfortunately, shoes like Birkenstock are too stiff to be considered minimalist. The new plastic ones are more flexible but they don't offer them with an ankle strap. ?
Want Healthy Feet? Go Barefoot!
So there you go, a list of healthy shoes for the modern person. If you really want to heal your feet and get strong, practice going barefoot each day. It's free and as nature intended.
How about YOU?
Do you wear minimalist shoes? What's your experience been? Share with us in the comments below!
Source: https://www.mamanatural.com/minimalist-shoes/