Find out why the "best" baby detergent might not actually be the right choice. Plus, learn about safer options, including easy ways to make your own.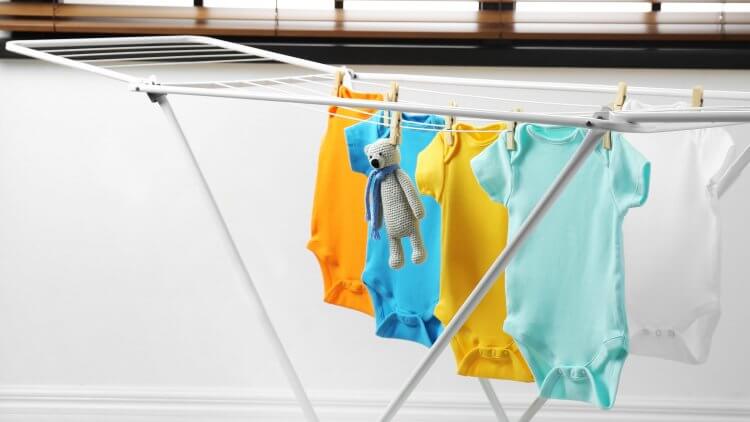 If you're in your third trimester, you're probably starting to nest and prepare your home for your little bundle, and if you're nesting, you're not alone. Nesting is a real human instinct with connections to our evolutionary history. How cool is that?! And part of that nesting experience is getting all those adorable baby clothes or swaddling blankets washed. But do you really need a special baby detergent? We've got the scoop here!
In this article, we'll cover:
On this page…
First Thing's First: Do You Need a Special Baby Detergent?
Ironically, two items—laundry detergent and fabric softeners—that are designed purely to clean are actually two of the most toxic items in our homes. (source) Yikes!
Conventional detergents contain a compound called dioxane—a known endocrine disrupter that may even cause cancer. (source) Because babies have such sensitive skin and delicate immune systems that are especially vulnerable, this is a "perfect storm" scenario that can lead to allergic reactions and skin issues, like eczema.
Think of it this way: Your baby doesn't need a special "baby-only" detergent—your whole family needs a natural one.
What About Dreft Baby Detergent?
Dreft Laundry Detergent: Not the Safest Choice
For years, Dreft has been the most widely recommended baby detergent, but it is not the best choice. In fact, Dreft received an "F" grade from the Environmental Working Group.
Wondering why this seemingly innocent detergent scored so poorly?
Other popular choices, like All baby detergent, didn't fare too well either; they received a D rating.
Get free updates on baby's first year!SIGN ME UP!
Best Baby Detergent
So what is the best baby detergent? Is there a good baby detergent? Conventional brands may be out, but there are still plenty of options to keep your baby's clothes fresh and clean:
Molly's Suds – The Best Baby Detergent (Plus, How to Make Your Own) post by Mama Natural
This soap is listed as eco-responsible and derived from plant-based ingredients. Even better, it's available in liquid or powder form.
For the powdered form: Use 1-2 tablespoons. Place the detergent into the washer drum.
For the liquid version: Add one capful of detergent into the drum of your washer. Can also be used to spot-treat and pre-treat.
This is a liquid detergent, and like Molly's Suds, it's plant-based. It's also super concentrated—4x!
For a normal load: Pour one ounce (half a cap) into the drum of your washer.
For a heavy or extra dirty load: Pour two ounces (one cap) into the drum of your washer.
This triple enzyme formula is tough on stains, but free from chemicals and fragrances that can irritate skin. It can also be used as a pretreatment for particularly tough spots, like tomato sauce and grass stains.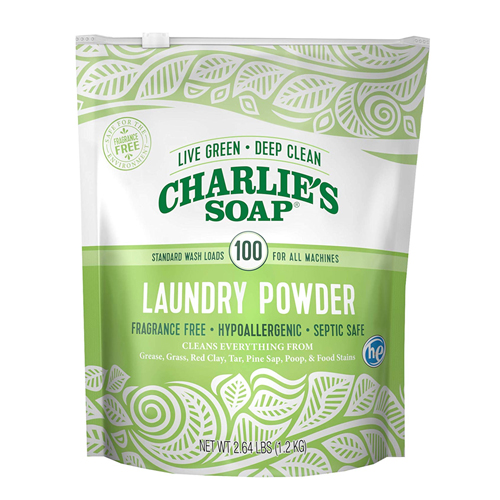 This non-toxic laundry powder (just four ingredients!) is a favorite amongst cloth-diapering parents, because it's extra gentle on sensitive skin.
For a normal load: Put 2/3 tablespoon of powder into the washing machine (not the dispenser).
For a heavy or extra dirty load: Pour one tablespoon into the washer.
This laundry detergent is a more eco-friendly choice (uses less water!) and is gentle on skin.
For a normal load: Use one tablespoon of powder for each regular-sized load.
DIY baby detergent
Using liquid soap
If you use Castile soap, remember that it is concentrated. To use Castile soap for laundry, mix one cup of your chosen Castile soap into a one-gallon container filled with warm water. Add 3/4 cup aluminum-free baking soda and 1/4 cup sea salt. Use 1 cup of this mixture per load at first, but you may find that you need less depending on the size and soil level of your laundry load.
Another option: As per the Dr. Bronner site, you can put 1/3 to 1/2 cup (or 1/6 to 1/4 cup for HE washers) of Castile soap directly into your washing machine's soap dispenser followed by 1/2 cup of white vinegar during the rinse cycle.
Using bar soap
You can also make your own liquid laundry soap using the bar version of Dr. Bronner's Castile soap.
DIY baby detergent ingredients:
1/4 cup of white vinegar
1 tablespoon of organic glycerin
3 cups of water for boiling
1 gallon of water for making the detergent
30 drops of your favorite essential oil
How to make DIY baby detergent:
Grate the bar of soap using a cheese grater or your food processor.
Melt the bar into 3 cups of boiling water. Let this mixture cool completely.
Using a 1-gallon container, add the remaining ingredients: vinegar, glycerin, and essential oils.
Add the cooled soap mixture to your gallon container.
Fill up the remaining space with warm water.
Let the detergent sit for 24 hours before using.
Shake before each use.
Use 1 cup per load.
Are Fabric Softeners and Dryer Sheets Safe?
It's part of our DNA to love things that smell good. And fabric softeners and dryer sheets do that, plus make clothes feel softer. But the bottom line is that conventional fabric softeners and dryer sheets are not safe. These products are some of the most toxic items you can have in your home. Studies link them to asthma, eczema, allergies, and even cancer and central nervous system disorders.
Luckily, there are plenty of safe alternatives:
1. Use dryer wool balls to reduce static cling and wrinkling
Dryer balls make clothes so soft and help eliminate wrinkles. Check these out:
There's no need to wash dryer balls, but keep in mind, you should replace the balls after about 1,000 loads of laundry—still way cheaper than using dryer sheets.
2. Use essential oils for scented fabric
And for that great scent, you can use essential oils (not fragrance oils!) to scent your clothes:
Fabric softener: Combine 1 gallon of white vinegar and 30 drops of your favorite essential oil. Mix well and deposit 1 cup in your washing machine's fabric softener slot per load.
Scented detergent: Add your favorite oil to your liquid laundry detergent. Start with 30 drops per gallon of detergent.
Scented dryer balls. Add a few drops of oil to each ball. Use the low heat setting if you opt for this method.
Of course, you can play around with the number of drops to fit your preferences. You can use single oils or you can mix-and-match oils to create your own personalized laundry scent. The following oils are popular for that fresh, clean scent:
Tip: Check your warranty information on your washer and dryer before using white vinegar or essential oils. For more information on getting started with essential oils, check out this post.
Remember…
Baby detergent (and regular detergent for that matter) aren't the only household items that should be green. It is important to keep all of your cleaning products and cosmetics safe, too. In fact, these are two more great projects to tackle while you've got those nesting vibes!
Source: https://www.mamanatural.com/best-baby-detergent/