New reports show that makeup (and even toy makeup!) kits contain traces of asbestos. Here's what you need to know and tips for finding clean makeup.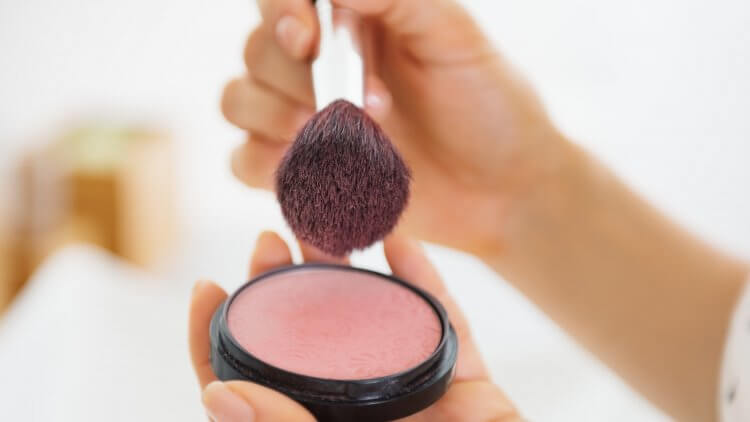 When you buy your child a fun play makeup set, you'd never expect to find something as scary as asbestos in the makeup. But, according to a recent press release by the Environmental Working Group (EWG) that's exactly what happened.
Of course, it would be alarming to find something as serious as asbestos in makeup, but makeup for kids?! YIKES!
If you can find such a harmful ingredient in products made for kids, it makes you wonder what else might be lurking in seemingly harmless products.
We've got the scoop to help you avoid this known carcinogen at all costs.
What Is Asbestos?? And Why Is It So Bad?
There is no safe limit of asbestos. Any exposure is dangerous.
Asbestos is a mineral found in rock deposits, but it can cause severe health problems (like lung cancer and mesothelioma) when asbestos particles are inhaled. The World Health Organization states that there is no safe exposure level, which means any exposure is bad.
In fact, asbestos is so toxic that if any is detected during a home renovation, special teams must come in hazmat suits to remove the asbestos before any work can continue. But, as noted above, it turns out asbestos isn't just in construction materials.
Why Is There Asbestos in Makeup?
If asbestos is really that dangerous (spoiler: it is!), you may wonder why are so many recent reports have found asbestos in makeup—something that we put directly on our skin?!
It all boils down to cosmetic-grade talc…
Asbestos isn't intentionally added to makeup, but cosmetic grade talc is. Talc is added to makeup, especially eye shadow, to prevent caking and achieve a smoother consistency.
Unfortunately, talc is often contaminated with traces of asbestos. And this leads to asbestos in makeup containing talc. This is even more of a risk with cheap, counterfeit products imported from China where regulations aren't as stringent.
The Most Toxic Makeup to Avoid
Makeup is applied to your biggest organ (your skin!), so it's a good idea to make sure your makeup is as clean as possible. But in a world where this problem is so prevalent, how can you make sure there's no asbestos in your makeup?
Choose makeup that doesn't include the following ingredients:
Talc powder
Parabens
Phthalates
Formaldehyde and formaldehyde-releasers (such as propylene glycol)
Retinal palmitate
Coal tar
Petrol by-products
Artificial colors and artificial fragrances
Oxybenzone
Mineral oil
Sulfates
And shop smarter
Be wary of makeup kits made in China, where regulations aren't as stringent and counterfeit products is a major problem that can lead to increased levels of asbestos in makeup. Remember: If the price seems too good to be true, it probably is. If makeup is super cheap, that's a red flag—high-quality ingredients are not cheap.
So, What Are Safer Alternatives?
Thankfully, you don't need to abandon your love of red lips and a smoky eye to make healthier choices. Today, there are plenty of safer alternatives. Here's how to weed through the noise:
Stick with clean beauty brands
Before my Mama Natural days, I loved conventional makeup like Lancome, Clinique, and MAC. And, truthfully, I had a hard time finding anything cleaner to serve as a suitable replacement… until I discovered Beautycounter.
Beautycounter Review My Honest Opinion post by Mama Natural
It's the first more "natural" makeup I've used that feels like luxury and actually works. The lipsticks have a true stain, the overnight peels make my skin noticeably clearer, and the tinted moisturizer does wonders for that coveted dewy glow.
Plus, it's ideal for busy mamas. They have over 150 products that I know are as safe as possible. There's no research to do—just select what I want and wait for it to arrive on my doorstep.
Check out Beautycounter!
Want to clean up your makeup routine?
Tips for buying safer cosmetics
There are also a few shopping habits you should adopt to ensure you're getting the cleanest products, from soap and shampoo to blush and eyeshadow.
When shopping, always:
Buy your makeup directly from the website or from verified sellers on Amazon (no third parties)
Always check ingredient lists (there's an app for that!)
Cross-reference products with the EWG database to check ratings
An alternative approach to cosmetics
Of course, if you want uber-pure makeup, you can also make your own cosmetics. For example, with coconut oil and beeswax, you can make your own lip gloss. Here are a few other ideas:
Face powder: Mix arrowroot powder with just enough cocoa powder to reach your desired shade.
Eye shadow: Start with 1/4 teaspoon of arrowroot powder. Then color with beet root powder, cocoa powder, spirulina, or even activated charcoal.
Mascara: Combine one capsule of activated charcoal with 3/4 teaspoon beeswax, 1/2 teaspoon coconut oil, 1/2 teaspoon shea butter, and 2 teaspoon aloe vera gel. Add to empty mascara jar.
Super quick lip gloss: Coconut oil! Easy peasy!
The Bottom Line About Asbestos in Makeup
From toy makeup to your own cosmetics, asbestos has a way of sneaking into the least suspecting places. The good news is that with a little detective work (AKA reading labels) and some substitutions, you can continue to find makeup without asbestos.
If you're in doubt about the quality of your makeup, it's best to take a pass on it. Remember there is no safe level of asbestos in makeup, so it's best to put safety first.
What About You?
Have you made the leap to all-natural beauty products? What's in your makeup bag?
Source: https://www.mamanatural.com/asbestos-in-makeup/