Teamwork, you guys.
Melissa Jameson Jul 20, 2014, at 2:55 PM
1. French Bread Pizzas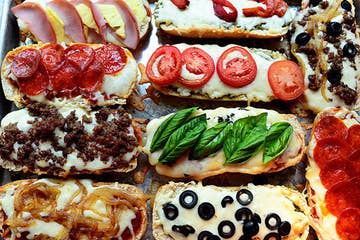 2. Vanilla Sugar Cookies with Sprinkles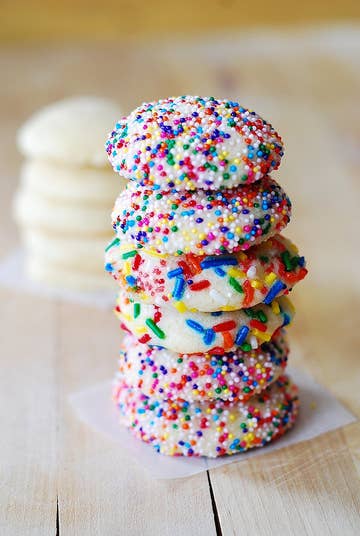 3. Baked Spaghetti Squash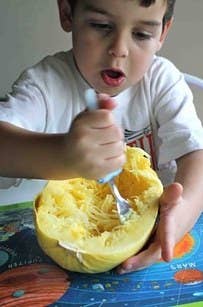 4. Donut Hole Skewers
Because snacks are that much better when you can assemble them on a stick. Get the instructions.
5. Baked Parmesan Zucchini Fries
6. Salad in a Jar
The trick to getting your kids to eat more salad? Letting them build their own. (And a fun, colorful presentation never hurts, either.) Get the instructions.
7. Pappardelle with Leeks and Corn
Vegetarian and perfectly filling. Get the recipe.
8. No-Bake Snack Bars with Cheerios
This recipe calls for raisins and chocolate-covered sunflower seeds — but just about any dried fruit, nut, or seed can be subbed in. Get the recipe.
9. Watermelon and Berry Fruit Salad
Long live the cookie cutters. See more here.
10. Homemade Honey Bread
All you need? Flour, milk, butter, honey, and dry yeast. (Plus, a tiny sidekick to help with measuring, mixing, and kneading.) Get the recipe.
11. No-Bake Chewy Oreo Bars
Oreos + marshmallows + butter. Get the recipe.
12. Healthy Baked Bites with Oats, Cranberries, and Apple Sauce
13. Easy Jello Ice Pops
These are essentially just Jello + Kool-Aid — but kids will love customizing their treats with different colors and molds. Get the recipe.
14. Mini Lasagna Cups
15. Three-Ingredient Nutella Brownies
Impossibly easy. Get the recipe.
16. Taco Pizza
You could go the regular taco route too — but there's something more fun about sprinkling all the colorful toppings on *just so* before popping it into the oven. Get the recipe.
17. Homemade Berry Ice Pops
18. Roasted Cauliflower Steaks
Little sous chef, big ambitions. Get the recipe.
19. Creamy Mac 'n' Cheese
For the pickiest of palates. Get the recipe.
20. Breakfast Toast Cups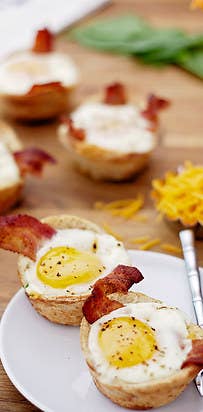 21. Peanut Butter-Banana Quesadillas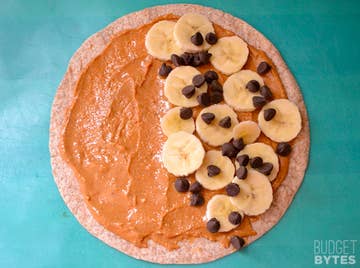 Source https://tasty.co/article/melissaharrison/cooking-with-kids